High protein smoothies are a brilliant on-the-go breakfast: they're easy to make, portable, and offer a quick way to get essential nutrients into your body. Most importantly, a high-protein shake first thing in the morning can help keep hunger at bay until lunchtime.
Research has shown that a high protein diet can help with weight loss as it helps to reduce the hunger hormone in the body, whilst boosting the levels of peptide YY, a hormone that helps you feel full.
Why should you add protein to your smoothies?
Protein is incredibly important, especially if you're looking to lose weight as it helps you feel satisfied for longer. By adding protein to your smoothie, you can stay fuller for longer and ensure no snacking between meals.
While adding protein powder to your smoothie is a quick and easy way to get some extra protein into your smoothie, it's not always necessary.
The great thing about protein is that you probably have lots of ingredients already available in your fridge or cupboard that you can add to your smoothies.
How to add protein to your smoothies without using protein powders
Here are some great ways to add protein to your smoothies:
Plain Greek yoghurt
Yoghurt, specifically plain greek yoghurt is a brilliant way to add protein to your smoothie. Not only is Greek yoghurt creamy and delicious, but it's naturally high in protein offering around 10g of protein per 100g.
Almond butter
Although peanut butter is considered a go-to ingredient for many smoothies, almond butter is also a fan favourite.
Not only does almond butter contain around 4g of protein per serving, but it's also incredibly tasty, jam-packed full of healthy fats and contains plenty of dietary fibre, which also helps you to feel fuller quicker.
Chia seeds
Chia seeds are a great little seed and contain a large amount of fibre, Omega-3 fatty acids and can help add protein to your smoothie.
Each tablespoon of chia seeds contains 2g of high-quality protein and they contain all nine essential amino acids making them one of the best plant-based protein sources available.
Hemp Seeds
Hemp seeds, also known as hemp hearts, are a rich source of nutrients. With a mild, nutty taste these hemp seeds can add up to 10g of protein to any smoothie recipe. That makes them much higher in protein than chia or flax seeds.
Consuming the seeds regularly can increase skin, hair and nail health. Summer bodies are made in the winter, so start tossing these into your smoothies now!
Pumpkin seeds
Pumpkin seeds might be small, but wow are they mighty! Consuming just a small amount is enough to provide you with all the key nutrition your body craves including magnesium, zinc, omega-3 fatty acids and tryptophan, an amino acid that promotes healthy sleep. And, by adding just one tablespoon to your smoothie it can provide you with up to 6g of protein – bonus!
Sesame Seeds
You may have only eaten sesame seeds before on a bagel, but did you know they're a great way to add protein to your smoothie? Offering 2g of protein per tablespoon, sesame seeds have lots of added benefits including calcium for strong bones and plenty of fibre to promote a healthy digestive tract.
Soy milk
Believe it or not, this plant-based milk is the most nutritionally similar to dairy milk. With nine essential amino acids, soy milk features more protein than other plant-based milk and is also balanced in fats and carbs too.
Cottage cheese
You might think it sounds strange, but if you've never tried cottage cheese in a smoothie before then now is your chance as it's a treat for your taste buds!
Cottage cheese doesn't only add a super creamy texture to your smoothie, it's absolutely loaded with protein too offering around 11g of protein per 100g.
Milk
Although not everyone can drink cow's milk, for those that can it is an easy way to boost the protein content in your smoothie. One cup of cow's milk contains around 9g of protein when compared to plant-based milk such as almond milk and coconut milk which contain 1g of protein per cup.
Turnip greens
Turnip greens are the dark leafy green tops of turnips. Though often thrown away, the leafy greens of a turnip are edible and can make a great addition to any fruit smoothie. Not only do they pack a protein punch, but they are also a good source of antioxidants and contain vitamin C, A and B which are important for healthy skin and hair.
High protein smoothie recipes
Protein smoothies are a quick and easy way to fill you up on-the-go and get all the essential vitamins and minerals that your body needs.
Below are our favourites that you can enjoy as a breakfast on the go, or as a post-workout refuel.
Banana Smoothie
Did you know that adding a banana to your smoothie can provide you with 3% of your daily protein? That makes this protein smoothie not only mouth-wateringly delicious, but it's also full of fruity goodness – and who doesn't love that?
Ingredients
2 tablespoons of nonfat yoghurt
250ml plant-based milk
1 medium-sized banana
1/2 teaspoon cinnamon
2 drops of vanilla extract
Ice
Method
Add all ingredients except the ice to a blender and blend until your desired consistency
Add ice to a tall glass and pour the smoothie over
Enjoy!
Strawberry Cottage Cheese Smoothie
The cottage cheese in this smoothie gives it a creamy and indulgent texture, not to mention it's packed with protein! This smoothie tastes more like a milkshake than a healthy snack and is perfect if you have a sweet tooth.
INGREDIENTS
Handful of strawberries
50g cottage cheese
250ml plant-based milk
1 small banana
2 drops of vanilla extract
Ice
METHOD
Add all ingredients to a blender
Blend on high until smooth and creamy, if you want it less thick add in more plant-based milk
Serve in a tall glass and enjoy!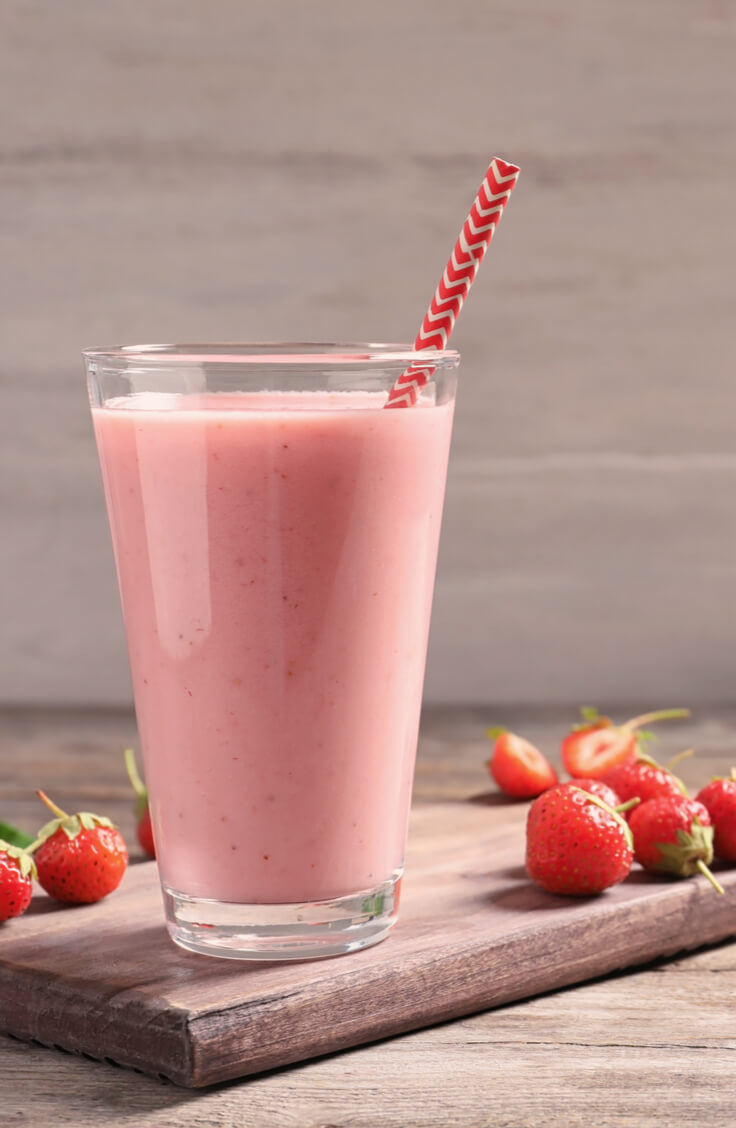 Belly bloat can be a frustrating and uncomfortable experience. It can cause discomfort, fatigue, and even pain, and it can disrupt your daily routine. Although bloating is a common issue, it is not something to be taken lightly. There are many potential causes of...