It can be incredibly difficult to find delicious foods that won't trigger the symptoms associated with irritable bowel syndrome. It can be even harder to find safe foods that also provide the body with all the essential nutrients it needs. But don't worry – smoothies are a fantastic and delicious way to get easier to digest foods into the body.
Benefits of smoothies for IBS
If you suffer from bloating and abdominal pain, blending low fodmap ingredients into a smoothie can help.
When you blend fruits and vegetables into a smoothie, the fibre from them is pulverized meaning that it's much easier for the digestive system to handle.
FODMAP diet for IBS
FODMAP stands for fermentable oligosaccharides, disaccharides, monosaccharides and polyols, which the small intestine struggles to absorb.
The low FODMAP diet eliminates high FODMAP foods that trigger symptoms of IBS.
Low FODMAP foods for smoothies
Below is a list of low FODMAP friendly ingredients that you can use in your smoothie recipes to help alleviate IBS symptoms.
Bananas
Bananas are considered low fodmap, so are considered IBS friendly as they won't upset your stomach. Because they are a fantastic source of dietary fibre, they are absorbed by the body quickly and help to aid digestion.
They also help to add a beautiful creamy texture to your smoothie and give it a delicious sweet kick!
Chia seeds
Chia seeds are packed full of nutrition. Not only are they high in protein, but they are also full of omega-3 fatty acids, soluble fibre and antioxidants. They're also gluten-free too and can be tolerated by the gut, which is incredibly important for those with IBS.
Leafy greens
Leafy greens such as spinach and kale have a low percentage of carbohydrates, which is essential for helping many of the symptoms associated with IBS.
The insoluble fibres present in leafy greens also help to protect the gut from a variety of stomach problems such as ulcers and it has also been proven to help the colon by flushing out toxins from the body.
Nut butter
Nut butter is a source of healthy fat and is a great way to slow blood sugar spikes from all of the fruits that you are adding to your smoothies.
Nut butter isn't just great for your digestive health, but it can also turn a boring smoothie into a refreshing drink! Your best choices are peanut butter or almond butter as these
Cashews are high in FODMAPs, so best to skip that type.
Smoothie Recipes for IBS
Low FODMAP smoothies are perfect for helping to alleviate many of the symptoms of IBS such as bloating and stomach cramps. Below are our favourites that you can enjoy as a breakfast on the go, or as a post-workout refuel.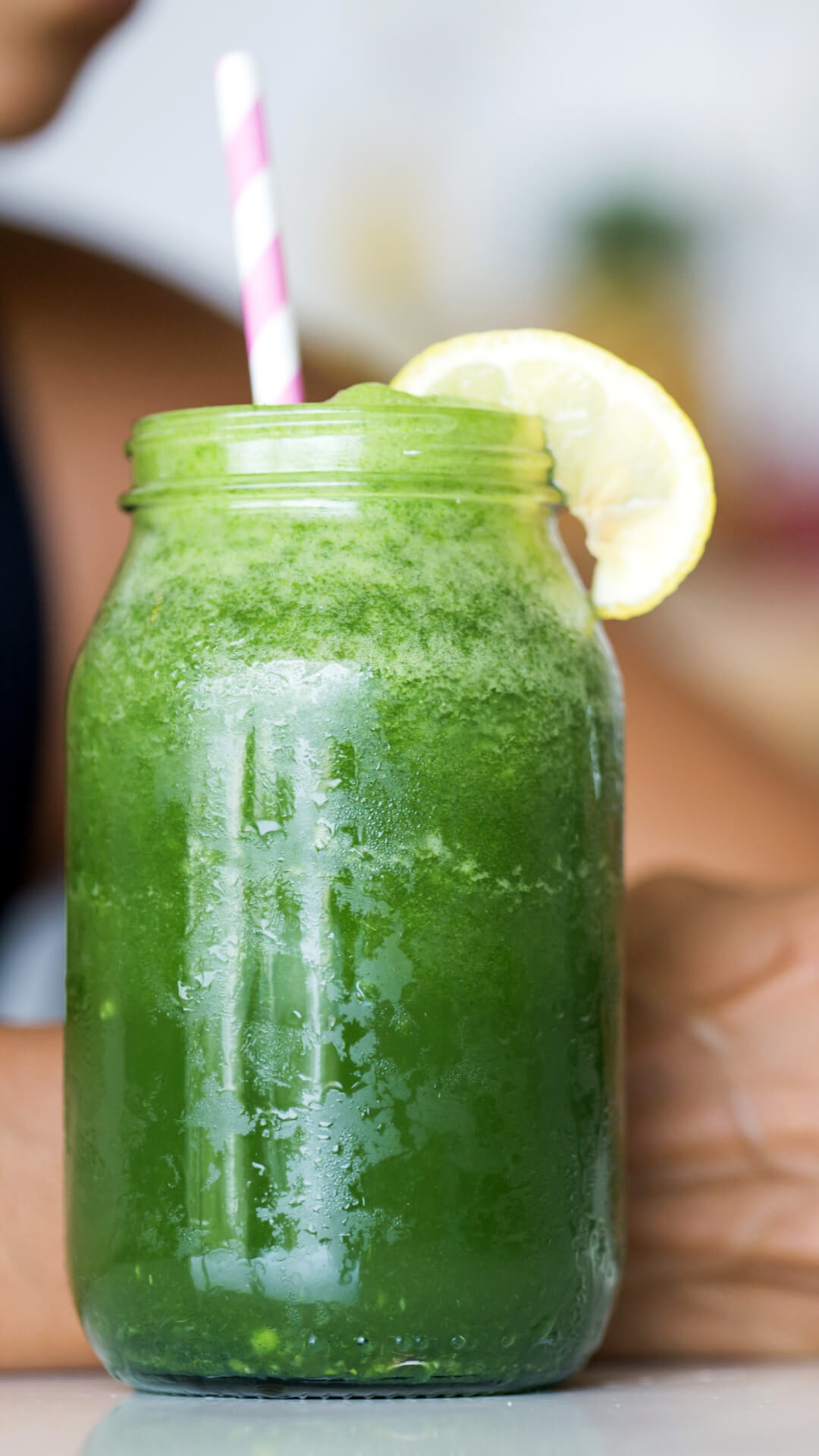 Green Relief Smoothie
Green smoothies are a great way to get plenty of fruits and vegetables into your diet in an easy and digestible way.
Ingredients
250ml almond milk
50g frozen pineapple
50g baby kale
1/2 a medium banana
1 scoop of protein powder (optional)
Instructions
Put all ingredients in your high-speed blender and blend until your desired consistency.
Serve immediately in a glass with ice and enjoy!
Chocolate Banana Smoothie
This chocolate and banana smoothie doesn't just taste delicious, it's full of health benefits too thanks to the amount of low FODMAP fruit it contains.
Ingredients
250 ml rice milk (or milk of choice)
A handful of ice cubes
1 small banana, chopped into small pieces
1 handful of frozen fruit such as strawberries or blueberries
1 tbsp cacao powder
1 tsp maple syrup
Instructions
Add all ingredients to your blender and blend until your desired consistency. If it's looking a little thick, add in more milk.
Serve in a tall glass with ice and enjoy!
Kiwi Fruit Smoothie
This delicious green smoothie is low in FODMAP and contains the delicious Kiwi fruit and honeydew melon. Not only is this smoothie delicious, but it's also packed full of energy and makes for the perfect breakfast on the go.
Both honeydew melon and kiwi fruit are fantastic for anyone with irritable bowel syndrome as they are certified low FODMAP foods and don't trigger IBS symptoms.
Ingredients
60g honeydew melon chopped into cubes
60g kiwi fruit peeled and chopped
1/2 a lemon, squeezed
1 tbsp maple syrup
250ml low fodmap milk such as almond or rice
a handful of ice cubes
Instructions
Add the honeydew melon, kiwi and lemon juice to the blender and blitz until a puree forms. Add the maple syrup, milk and ice cubes to the blender and blend until nice and creamy. Pour into a glass and enjoy!
Belly bloat can be a frustrating and uncomfortable experience. It can cause discomfort, fatigue, and even pain, and it can disrupt your daily routine. Although bloating is a common issue, it is not something to be taken lightly. There are many potential causes of...