The majority of smoothie recipes out there include dairy milk as an ingredient, however, many people can't consume milk due to dietary requirements, preference or ethical reasons.
Lactose intolerance is incredibly common; a person is lactose intolerant when their body struggles to break down the sugar (lactose) found in dairy products. Because of this, many people require dairy alternatives in everyday life. Luckily, there are now more dairy and milk alternatives than ever before, meaning you don't have to miss out on delicious smoothies as part of your diet.
At The Queen of Health, we know how great smoothies can be a part of a healthy lifestyle, so we are providing you with our top milk alternatives that you can use in your smoothies.
Soy Milk
Soy milk is a plant based milk made from soybeans, and stands as one of the most popular alternatives to cow's milk. Soy milk contains less fat content than dairy milk and is also lower in calories… so it's a thumbs up from us! Soy milk contains a larger amount of protein and iron, and can also be fortified with vitamin D and calcium for added benefit. Soy is a great alternative for smoothies because it has a creamy texture, similar to that of cow's milk. However, it is recommended that you opt for unsweetened soy milks, as sweetened soybean milks can have a large amount of added sugar, which can lead to further problems with blood pressure, inflammation and other health problems.
Almond Milk
Almond milk is a tasty alternative that makes a great ingredient as part of a smoothie. Almond milk is made from almonds blended together with water, so it has a nutty taste and somewhat creamy texture. Almond milk is preferred by many smoothie drinkers for its great taste, as well as the fact is it so low in calories. Because the milk is made from almonds it contains a good amount of Omega 3 and Omega 6 fat, as well as Vitamins A and E, which are great for promoting a healthy immune system. Almond milk can be found in nearly all grocery stores, so why not try it out in your next smoothie?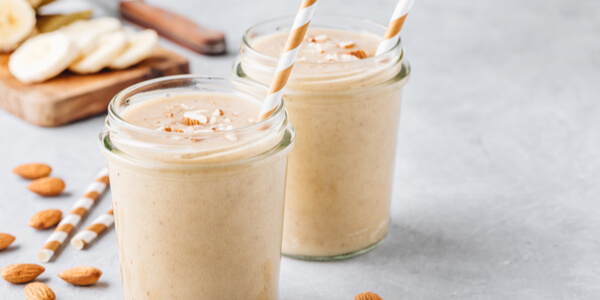 Coconut Milk
Coconut milk is another popular dairy free alternative for those on a vegan diet or who cannot consume milk for health reasons. For those that love a thicker smoothie coconut milk is a great ingredient as it is so creamy, but it is also high in saturated fat so we only recommend this tasty ingredient once in a while. Although coconut milk is high in fatty acids, it contains many beneficial nutrients such as vitamin C and E which promote the development and repair of our tissue and help strengthen the immune system.
Hemp Milk
Hemp milk isn't as widely recognised as other alternatives, but is a plant based liquid full of vitamins and nutrients. Made from hemp seeds and water, hemp milk is a healthier alternative to almond milk for a smoothie. With less calories and a good amount of protein, hemp milk is ideal as part of a healthy diet. Try to opt for unsweetened versions of the product, or you may end up with a milk alternative loaded with sugar. This ingredient is also ideal for those that are soy, lactose or gluten intolerant.
Coconut Water
Coconut water is a delicious plant based liquid that can be a great addition to any smoothie. There are many benefits to adding coconut water to your smoothie rather than a creamier liquid. These benefits include the presence of potassium and magnesium which can help reduce blood pressure and regulate the body's muscle and nerves. Additionally, coconut water is high in fibre which means that you can stay full for longer. We recommend coconut water as an alternative to skim milk after a workout for keeping hydrated and promoting faster recovery.
Water
Out of all the milk alternatives out there, water may not come to mind, but it can be a wonderful addition to any smoothie. In order to create a smoothie with a creamy consistency, you can simply add unflavoured tofu or half an avocado to the blender along with water. Water as an ingredient will keep you hydrated and flush toxins from your body, so you can truly invest in a healthier lifestyle.
There is a range of other milk alternatives that you can add to your smoothie such as:
• rice milk
• oat milk
• cashew milk
• macadamia milk
Many of these non-dairy ingredients are low in calories and have added calcium and vitamin E, A and D. Keep an eye out for added sugar content; adults should not consume more than 30 grams of sugar per day. Find a variety of free nutritional smoothie recipes here.
Transform Your Life with The Queen of Health
Here at The Queen of Health we know how life changing it can be to adopt a healthier lifestyle. Nichola at The Queen of Health is a nutritional coach that specialises in making women look and feel amazing. We have a range of weight loss programmes that can kick start your weight loss journey, no matter where you are in the world. Our programmes go beyond healthy eating; changing your lifestyle starts from within so we take the time to explore the causes of negative thought patterns when it comes to your diet and food intake. By getting to know you and your background we are able to set realistic goals that will give you outstanding results. Find out more online today at www.thequeenofhealth.ie and get in touch with us through info@thequeenofhealth.ie.
Are you a busy professional woman struggling to find the time and energy to lose weight? We've got your back! We have the perfect solution to help you shed those pounds while juggling your hectic schedule. As a busy professional and mum, the Queen of Health, Nichola,...