What makes a good salad?
A good salad can be an amazing addition to your diet if you do it right. If you want to lose weight eating a salad can support your health goals. Remember one salad will not make you healthy and one ice cream will not make you unhealthy ..it's about balance and consistency.

 

Consistency is the key to weight loss and your health goals. 
What can go wrong?
A couple of things go wrong when clients start making their own salads at home (and making them is something I encourage you to do as it works out so much cheaper and often more nutritious than anything you can buy in the shops). 
The biggest barrier is that clients can't think of what to put in a salad without it being painfully boring. Here, I'm thinking of the ham, cheese, tomato and radish salads. A salad is a celebration of colour and healthy foods.
The other thing is that clients create their perfect salad of all time. They are throwing absolutely everything into it. And eating it every day. It doesn't matter how amazing it is, very soon you're going to get bored. So then it's 'salads don't work for me'. Pretty soon, you're back in the less healthy world of the sandwich.
Find tasty combinations of a handful of ingredients, that will give your salads an Italian, Spanish, Japanese, French or Greek spin.
So this blog is all about how to make your salads interesting and sustainable so you actually want to eat them. I'm going to give you a list of stuff to have in the fridge and cupboards to make putting your salad together a breeze — don't dare even pretend you can't find the 5 minutes of a morning (or even the night before) to prepare something delicious and healthy. 
There are things you might want to prepare in advance (frozen, pre-cut up roasted veg — you are literally putting it in the oven, not watching it or attending to it and it takes 2 minutes of your time tops, so enough already).
Golden Rules
1 Pick the leaves. Romaine lettuce, lambs lettuce, baby gem, oak leaf, endive, spinach, chicory, radicchio, rocket, watercress, red cabbage, bagged leaf mix.
NOTES: iceberg lettuce contains virtually no nutrients and it is possibly the dullest and most tasteless of your options. Rotate your greens, have different ones every day/week.
2 Add unlimited non-starchy veg (but remember the rule employed by the professional pre-made salad makers on switching up the variety!) This includes Raw red onions, spring onions, cucumber, tomatoes, avocados (½max.), peppers, celery. Roasted asparagus, red onions, peppers, courgettes, aubergines. Steamed asparagus, broccoli, cauliflower, green beans.
3 One portion (fist size) of starchy veg (optional) Raw carrots (grated). Roasted sweet potato, squash/ pumpkin, beetroot, butternut squash, sweet potato.
4 Protein amounting to one portion (palm-sized, unless mentioned below): Cooked poultry/meat chicken, turkey, beef, pork, lamb. Fish tuna (tinned or steak), salmon, (tinned, smoked, fillet), trout, hot smoked (flaked), prawns. Cheese (30 g/person): mature cheddar (grated),
Roquefort (crumbled), feta cheese (crumbled), goat's cheese, parmesan shavings, halloumi (grilled, baked, fried). Pulses (tinned) kidney beans, butter beans, cannellini beans, flageolet beans, chickpeas, lentils (pouch/tinned). Nuts walnuts, pecans, pine nuts, hazelnuts, cashews, flaked almonds. Other eggs (boiled), tofu.
5 Add a garnish. One tablespoon (optional) jarred antipasti like sundried tomatoes, roasted peppers, olives, jalapeños, artichokes. Seeds like sunflower seeds, pumpkin seeds, sesame seeds. Herbs parsley, basil, coriander. Dressings — 2 tbsp extra virgin olive oil, 1 tbsp vinegar, 1 tsp mustard, salt, pepper. OR 2 tbsp extra virgin olive oil, 1 tbsp lemon juice, salt, pepper.
That, my friends, is the secret.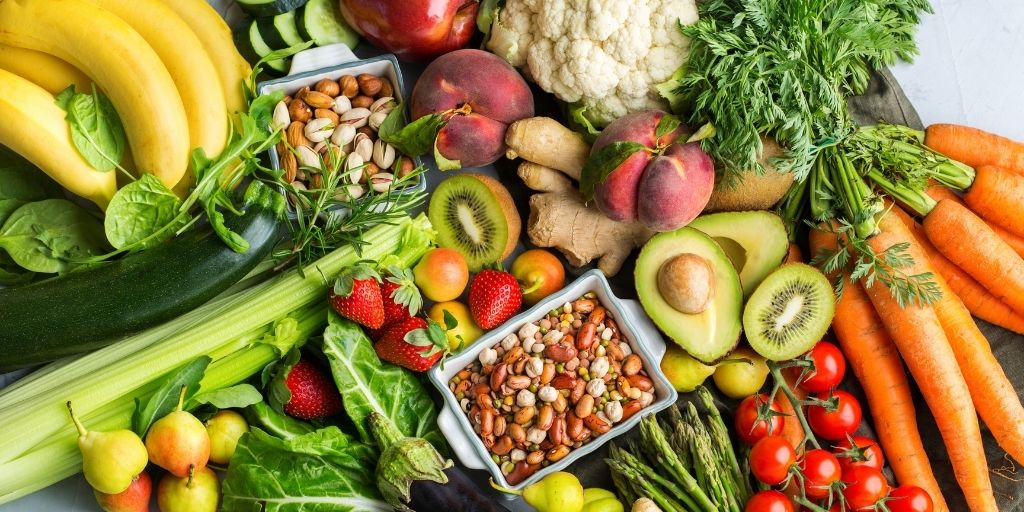 Recipes to get you started
1. Antipasti salad — chicken, roasted peppers (from jar) and I also love the spicy piquillo peppers you can now get in most supermarkets, artichoke (antipasti jars, from the supermarket), chopped cucumber, chopped tomato, olives, a handful of leaves, fresh herbs (basil, parsley or mint would work here), chopped pistachio nuts (add at end — they will go soggy in a salad).
2. Chicken and avocado — chicken, chopped avocado (of course), cherry tomatoes, a handful of spinach leaves. A creamy dressing works brilliantly here or a lemony one. And I adore adding in alfalfa, a weird, cress-like thing you'll find in the salad leaves section of the supermarket. Just so you know, alfalfa is a phytoestrogen, a plant source of oestrogen that has magic, hormone-balancing effects. Try it.
3. Tuna Nicoise: leaves, boiled egg, cooked (and chilled) green beans, cherry tomato, cucumber, black olives, tuna (leave out the bread or croutons).
4. Prawn and rice salad — leaves, cooked jumbo prawns, whatever salady veg you have to hand (tomato, cucumber, pepper, avocado, etc),
a couple of tablespoons (max) of flavoured, pre-cooked basmati rice (I'm more than a tiny bit in love with Tilda's black bean, jerk & coconut rice).
5. Chicken tikka salad — I'd love to you make your own tikka (cubed chicken, covered with a mix of natural yoghurt and tikka paste, then grilled) but you can buy the pre-made stuff in the supermarket chiller cabinets. Track down some Tilda split pea, green chill and coriander basmati rice. Add in bits and bobs like tomatoes and chopped pepper. You're welcome.
6. Stir fry leftovers, if you have them. Always worth making more if you've got the wok out. Brocolli is a great one to stir fry and is lovely served cold in a salad.
7. Lentil salad. Pre-prepped and flavoured puy lentils, chopped walnuts, goat's cheese, chopped avocado, chopped parsley or coriander (if liked) and whatever other excitements you can muster.
8. Quinoa salad. 2 versions. Roast veg, harissa paste, quinoa, griddled/ grilled halloumi cut into strips OR fried onion, harissa, wilted spinach, chickpeas (just rinse straight out of the tin), quinoa, chopped chicken. You can get quinoa pre-made (find it in the rice aisle).
9. Falafel (chickpea balls), spinach leaves, cucumber, cherry tomatoes, olives, hummus, a sprinkling of seeds. Serve with half a wholemeal pitta or flatbread, if needed.
10. Cauliflower rice (you can buy it ready-made from most supermarkets now) with assorted salad veg and either some tinned fish or chicken. Adds bulk but not carbs. I love to mix mine with herbs and, as I usually make it anyway, I always add some chopped garlic and cumin for an Asian-inspired twist. Small note on the cooking… I always find it takes at least an extra 5 mins of cooking time. For a really quick salad, I'll often add some nuts (any in theory but I gravitate to almonds), crumbled feta or goat's cheese, finely chopped red onion, chopped coriander, grated carrot and, a little chopped chicken.